Privacy Policy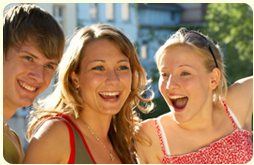 Information Collection and Use:




DMVDriversEducation.org collects personal information when you register. We ask for your legal name, birth date, mailing address, phone number and email address.

DMVDriversEducation.org keeps records of the date and time you complete each section of the course. We also keep records of your test scores and course completion date.

DMVDriversEducation.org accepts credit card payments (via PayPal), personal checks and money orders.

DMVDriversEducation.org uses information for the following general purposes: to customize your driver's education certificate of completion, to fulfill your requests for online driver's education course, contact you, confirm with Department of Motor Vehicles (DMV) that you have completed the online course.

Minors - Under 18 Years Old:




DMVDriversEducation.org was created and written for Provisional driver (persons under 18 years old). This program fulfills the teen driver's education requirement for the Sate of California.

Minors are required to have their parent or guardian's permission prior to registering.

DMVDriversEducation.org will not solicit any non-driving related offers to customers.


Information Sharing:

DMVDriversEducation.org understands that your privacy is important. DMVDriversEducation.org does not sell, or share personal information about you with other people or nonaffiliated companies except to provide information to DMV, upon request. For example, DMV may contacts us to verify that you have successfully completed this course.

Your Ability to Edit Your Account Information:

You can edit your personal information including your legal name or mailing address, email address or password at any time.


General:

We reserve the right to send you certain communications relating to DMVDriversEducation.org services, such as announcements, informative bulletins relating to driving, insurance or new CA laws, course evaluation, or other driving related messages.

Students will recieve their certificates of completion in the mail.

DMVDriversEducation.org may update this policy.

Questions and Suggestions:




If you have any questions or suggestions, please contact us at info@dmvdriverseducation.org or contact us at :
National Driving and Traffic School
2107 Dwight Way, Suite 107
Berekeley, CA 94704


Effective Date: November 12, 2010
.
We know you are tired of sitting in class so why do it if you don't have to. Take our state approved driver education online class at home, and when it is convenient for you.

We offer DMV practice tests to help prepare you for your drivers permit and drivers license. Get specifics on how online driver education works in your state.

More on drivers ed